Originally from Coalville Leicestershire, at the age of sixteen (1982) Gary joined the Royal Signals Regiment British Army. Spending 13 years with a successful career in the Armed Forces and touring the country as a member of the famous White Helmets Motorcycle display team.
While stationed at Catterick Garrison Gary met his future Wife Linda, however due to an unfortunate accident while performing with the White Helmets, this put an abrupt end to the Military career. He was due to be posted down south however Gary and Linda married and set up home in Linda's home town of Newton Aycliffe with Linda's two children Richard and Rebecca, a year later Linda gave birth to our Daughter Nichole.
Gary became good friends with Mick Taylor, who at the time lived a couple of doors away, they shared a common interest in music. Mick being a drummer and Gary a bass guitarist – fate then gave them Anth Bryan and Mally Pybus both guitarists, then enter stage left our front man Micky Rich . . . and so was born "MIXT NUTZ".
They started out playing local clubs, private parties etc. However they soon began to spread their wings selling out venues across the north east with the 1970s glam rock revival show, from then we conquered the UK and beyond! We were soon touring around the UK holiday parks as the show of the month as well as a lot of MOD venues aided by our top sound engineer John Melvyn.
After a few line up changes and other unavoidable commitments Mixt Nuts sadly disbanded, however Gary decided to take his interest in magic to another level and made a new career, enter Professor Nincompoop, my new alter ego has been entertaining children for the past twelve years.
Like Mixed Nuts Gary started out in a very modest way but soon became in demand, ending up as one of the North Easts top children entertainers which included holiday parks Nationwide and a three year residency at Heather View Holiday Park. Gary is currently entertaining the children at Adventure Valley Theme Park.
Along side the magic his life long passion for music prompted him to set up Inaspin Roadshow. Playing all genres of music at such events as birthday parties, weddings etc. Gary is now happy to announce that he will be presenting "Alternative Aycliffe",  playing Punk, Ska, New Wave and the like on a new exiting venture that is Aycliffe Radio. Along with other new and talented presenters.
For more information check out Professor Nincompoop and Inaspin Roadshow on Facebook – Where you will also find Aycliffe Radio.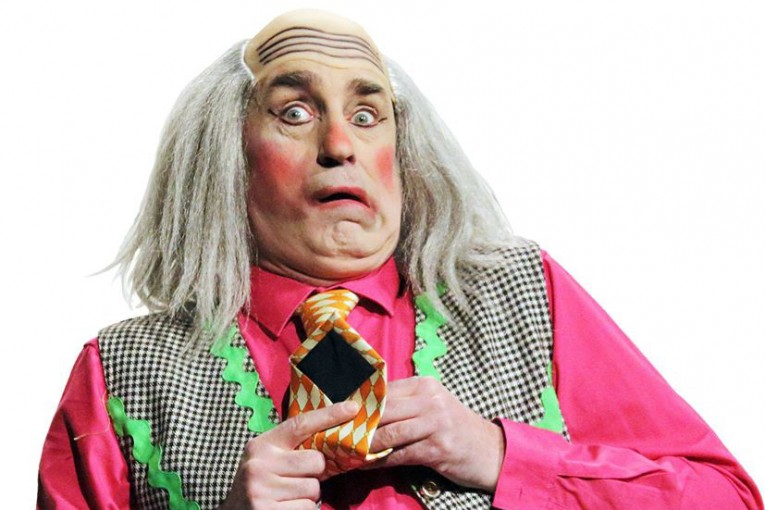 Gary's alter-ego Professor Nincompoop – a popular local children's entertainer
Listen to Aycliffe Radio by clicking the link below:
https://solid41.streamupsolutions.com/proxy/catidbxp?mp=/;type=mp3
---