Gary and Alby from Aycliffe radio present an "Alternative Aycliffe All Dayer".
at The Turbinia on Sunday 5th May 2019 from 1.00pm to 11.00am
Groups appearing include: Boilermakers, Dead Objectives, The Lengthmen, Amazing Spacefrogs, All Out Attack, MC16 and Numskulls.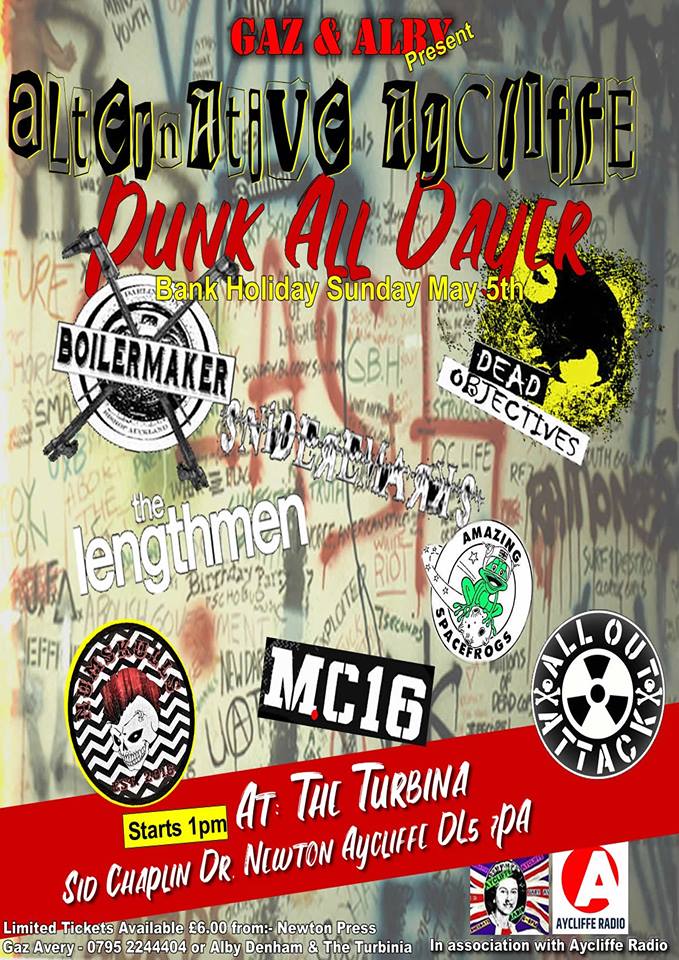 Gaz n Alby from Aycliffe Radio organised a Punk All Dayer at the Turbinia over the bank holiday weekend, which turned into a huge success.
This was their first attempt at putting a gig on and was six months in planning, they wanted hard working bands that gig all over the country, that play for one thing only, that's the love of punk rock.
When it was first mentioned on their Facebook page there were a few bands they had in mind and were planning to go with 3 or 4 on the day – within two days, 15 bands from all over the country wanted to play.
Every band who performed live on the day had been featured on Gaz n Alby's Alternative Aycliffe show, which airs on a Wednesday evening from 8 to 10pm.
The first worry on the day was if the first band, "The Numskulls" would have a crowd to play to, but by the time they came on stage at 2pm, the Turbinia was packed to the rafters.
Next on, MC16 a 3 piece (which sounded more like a 5 piece), who had travelled up from Shropshire and Worcester, they blew the room away.
"All Out Attack" were next and it was an all out attack from start to finish. "The Amazing Space Frogs" did what only they can do, pure punk with a brilliant laugh out loud approach.
Derby based band "The Lengthmen" had the hard job of following The Frogs and didn't let us down, pure 1970's sounding punk in a full 45 minute set which went down a storm.
"Snide Remarks" after a full weekend of gigging and racking up the miles, did a cracking set, where did they find the energy God only knows. The penultimate band "Dead Objective" drove over from Manchester to deliver a full on high energy set, catch this band along with MC16 at this year's Rebellion Festival and you will not be disappointed.
Finally headliners, local band "Boilermaker", the dance floor was well and truly rammed and they blew the roof off.
Gaz n Alby would like to give a massive thank you to every member of every band who helped us make this day great. Thank you to Gary Soakell, the Turbinia Pub Landlord, for letting us put the All Dayer on and for sorting the Ska, Reggae Chill Out Room, which doubled up as a cafe to feed folk all day; also to each and every member of the bar staff, who never moaned once, service with a warm and friendly smile.
Special thank you to the sound guys, and what a sound they got for every band. Gary Henderson, Tony Welsh and Nicole Avery for taking pictures, videos and interviews all day, check them out on the Alternative Aycliffe Facebook page.
My final thank you is to everyone that turned up to support day.
Who would have thought two daft lads could have put on a punk gig in Newton Aycliffe, with no household names on the bill and sell it out?