Hi I'm Paul Baker, I am a full time DJ & Presenter.
I have been in the entertainment industry since 1994 when I started my first mobile disco, catering for private functions such as weddings and birthday parties. One year later in 1995 it became my full time job. In 1996, in addition to DJ'ing, I began hosting karaoke shows and quiz nights in popular venues across the south coast of England. I have held many residencies in all three of these fields and am still hosting four quiz nights every week and DJ'ing at some of the UK's most well loved clubs and bars every Friday and Saturday night.
I first got the radio bug when I was at school and I used to put two ancient hi-fi systems together and record my own shows on a flat deck tape player (thankfully these tapes no longer exist). Many years later at college in 1991, I worked on a charity station called Radio Cracker and knew this is what I wanted to do however with other things taking off I never really found the opportunity to pursue this until 2010 when a visit to the studios of Skyline Radio in Southampton reignited my enthusiasm for radio. I was a presenter on Skyline Radio between 2011 and 2013. I am currently presenting live shows on Monday mornings (Voice Breakfast) on 103.9 Voice FM in Southampton. In 2012 I also began offering my services as a voice over artist for commercials, dry cuts, station ID's and much more within and beyond the radio industry.
In 2013, I launched my own radio shows, The Retro Years, Power Anthems, Acceptable 80's, NonStop 90's, Entertainment Power and more recently the daily Paul Baker On The Radio. I made them available to every station and I couldn't have been happier with the response I have received and the shows are now being broadcast on over 100 stations in many countries all over the world, including UK, USA, Mexico, Malta, Spain, Netherlands, New Zealand, Ireland and South Africa.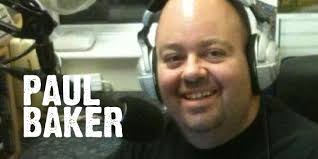 Listen to Aycliffe Radio by clicking the link below:
https://solid41.streamupsolutions.com/proxy/catidbxp?mp=/;type=mp3
---